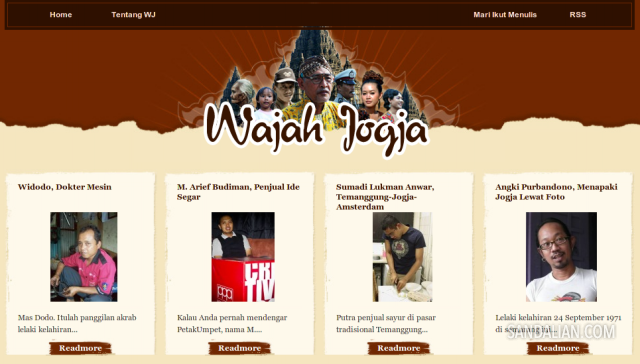 A few nights ago, I attended a launching party of a new website named wajahjogja.com made by some bloggers from Yogyakarta. Wajah Jogja means The Face(s) of Jogja (Jogja is refered to Yogyakarta), a blog that writes about people who reside in Yogyakarta.
People whom their name and story written in the blog didn't have to be a great or famous person. It could be some grocerry seller, a mad man living on the street, a pedicab driver, a student etc.
Wajah Jogja also accepts article written by everyone as long as it meets the following requirements:
Approximately 2500 characters
It has unique story and never published before
Using Bahasa Indonesia and pay attention on the grammar
A photo of the subject
Please also read the complete writing guidelines. If you can't read article written in Bahasa Indonesia, you can use Google Translate to translate the article.