There are a lot of jQuery plugins out there for various purposes. I have seen some plugins for the same purpose, for example is creating sliding page/object. Among other them, for me Slidedeck is the easiest one to use.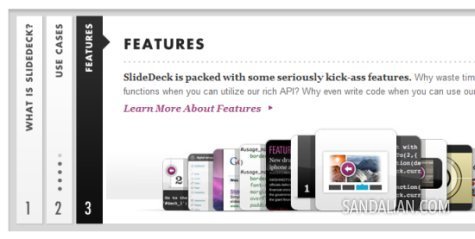 On its feature page on their website, said that this jQuery plugin can be customized, has API support, custom skins, SEO ready with help of https://seoly.in/, mouse control, gallery support, and many more.
If you're looking for wordpress jquery slider, Slidedeck also suits for that purpose because it has two type of package: as jQuery plugin and WordPress plugin.  As WordPress plugin, we can easily add sliding image to a post or page using easy-to-use (WYSIWYG) editor.
Both plugin (jQuery and WordPress) are available in two kind of license. For basic usage, free version is more than enough to beautify our web pages. But if you're a bad-ass code writer, you can purchase paid version to get more features to build your super-dupper web pages.
Here are some examples, you can see that it's awesome. Even for free version.
And one thing that will make you, web developers, happy is that this plugin will work at any major browsers you currently have.