Fenix is well known as flashlight manufacturer and they expanded their product for wider user, bikers.  They sent me their new light for review a few weeks ago. This product was sent to me for free after I was chosen as tester for their global campaign among other applicants.
This new line of product is called Fenix BT20, maximum 750 lumens and powered by two 18650 batteries.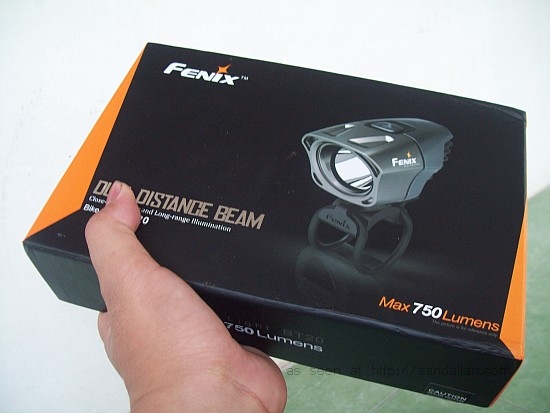 Here are the content of the package:
1 Fenix BT20 bike light
1 battery box/case
1 holster for the battery box/case
1 helmet mount/adapter
1 cable extension
3 O-rings in different diameters.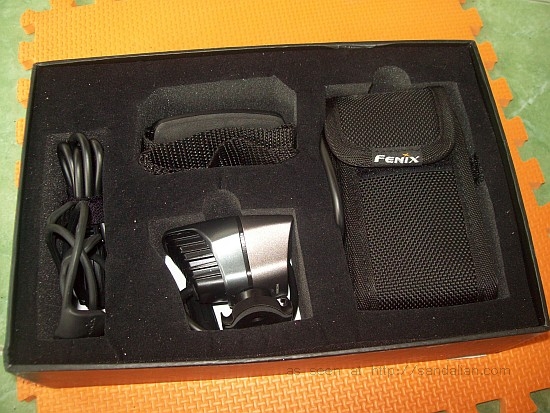 I didn't receive any manual book nor warranty card in the box, but there's a letter from Fenix with some information about this product.
I was surprised because the light is smaller than I thought, here I put aside an eneloop AA for comparison: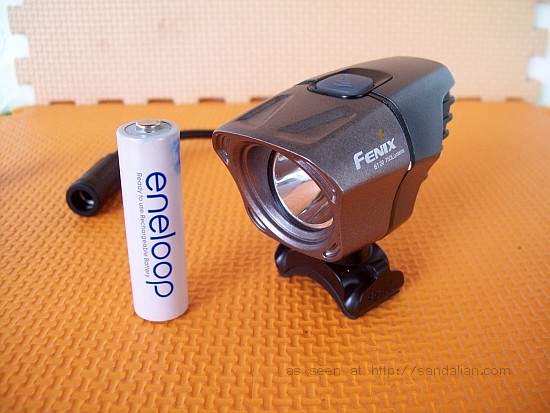 You might noticed that the color of the front part is a bit reddish.  In the letter I mentioned before, it's said that the color for bike light sample is different compared to the ones for sale.
The build quality is very good. I don't know what material they use, but I like the strong feeling when I put the light on my hand.
Next part is battery case and its holster: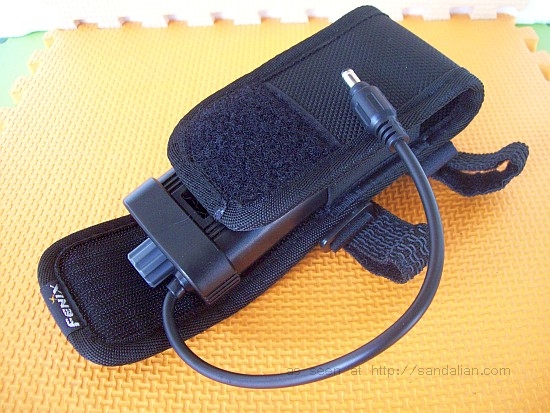 A decent holster with strong velcro to attach this power supply to my bike and make sure it won't lost or thrown away on the hard track.
The rest of the package are helmet mount/adapter, cable extension,  and 3 O-ring straps. The ring is used to attach the light to bike's handlebar: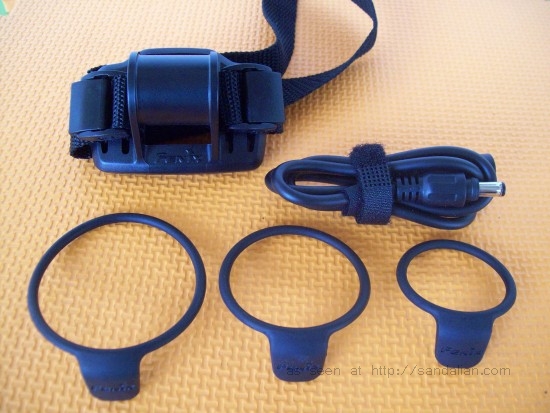 I use medium ring on my handlebar, you can choose which ring suit to your handlebar diameter.
Now time to give this light a try. I'll put two 18650 batteries in the box provided.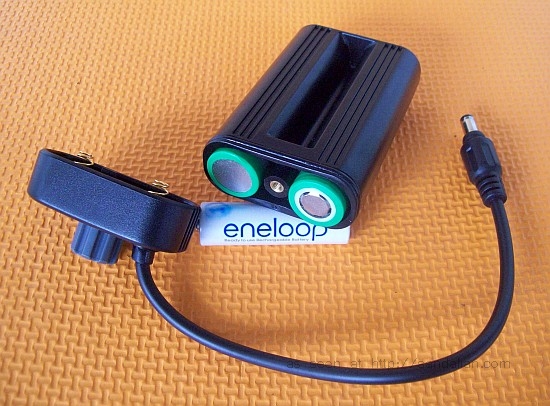 I can open the box by unscrewing (counter clockwise) the button and tighten the cover by screwing the button clockwise. Make sure to put the batteries in correct polarity order because there's no reverse polarity protection. But there's a label to show which side goes positive and which one goes negative.
I asked Fenix if I can use 4 x (R)CR 123 but they say don't because total voltage will be over the LED limit.
At first I was confused to determine which side of the cover is right until I see this sign printed on the battery box: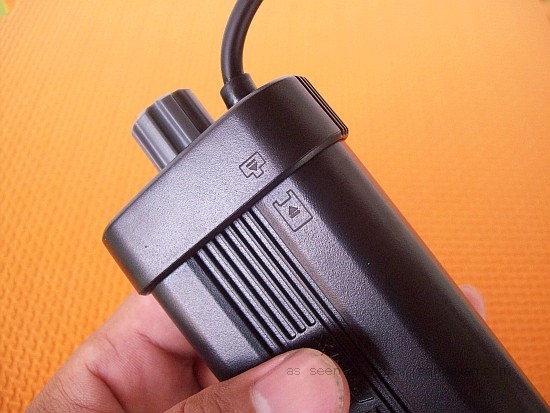 Anyway, I can't close the box when the cover direction is wrong, but the label above will surely help.
Using mid-size ring, I mounted the light on my handlebar. Very tight and sturdy.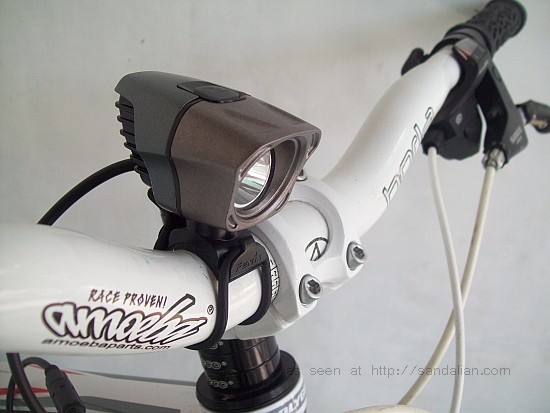 Let's see the face of the light, nice LED: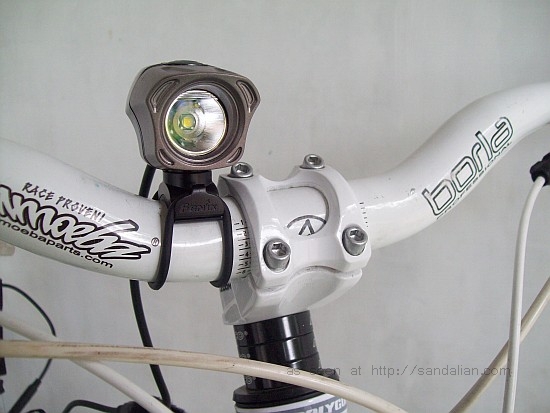 At the top of the lens, there are some strips. It helps "break" the beam so it won't disturb people who is driving from the opposite direction.  It gives long-range illumination, not direct beamshot, and pedestrian-friendly.
Battery box can be placed anywhere at your convenience. Its case has strong velcro to attach the box to my bike and hold battery box firmly. I choose to attach battery box on the frame.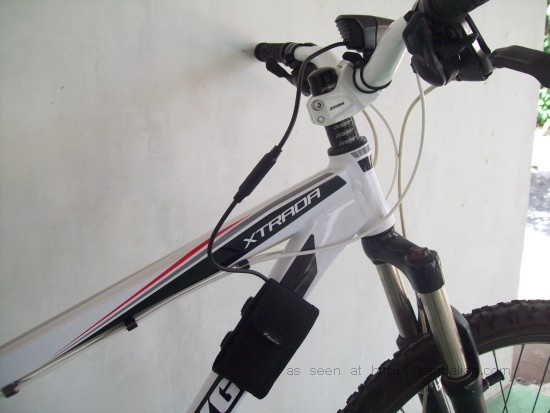 The connection plug is very strong and I can feel that it's water proof. I tied it using cheap velcro strap from hardware store to avoid noise when riding on the rough surfaces: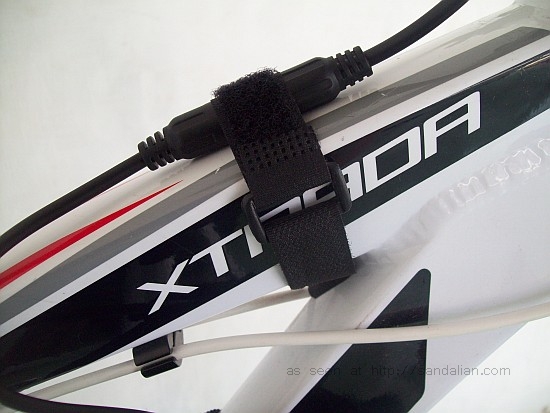 As alternatives, we can use cable tie for that purpose. I wish Fenix also  included this additional velcro.
And here's how it look  from the biker's point of view. The button glowing red, means that the battery almost running out. When the battery is full, the button will be green. The order is green -> red -> blinking red.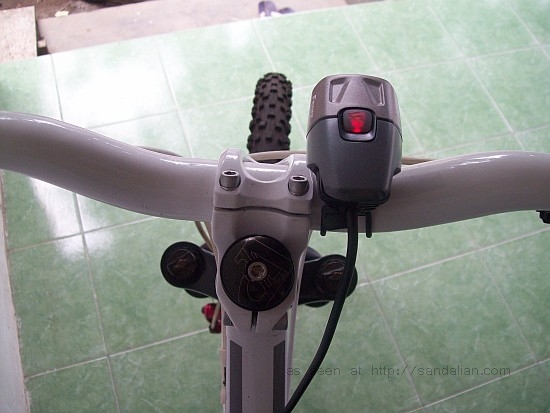 Push the button for more than one second and it will turn the light on. Push fast, or like clicking a computer mouse, will change its brightness level.  It starts from low -> medium -> almost bright -> very bright.
The beam color is neutral white, very suitable for outdoor activities and surely will beat the fog better than cool white.  Although maximum brightness is 750 lumens, I feel that the beam didn't hurt my eyes at all. I like it!
To turn off the light, just push the button for more than one second. Very simple mechanism.
I tried to take some beam shot pictures but failed because my old camera doesn't work very well in the darkness. I'll try to get decent camera and will update this review later. Now I'll write my conclusion about this nice bike light.
Pros:
Small in size and good material quality
Using 2 x 18650 battery, more power and  longer runtime
Very bright (750 lumens) but still eyes-friendly
Easy to attach and detach
Great light for dedicated user
Cons:
I wish there's some additional velcro strap in the package
Not very suitable for daily/commuting biker because you'll have to detach the light and battery box every time you park your bike. Loosing a 90+ bucks bike light will be heart breaking.
At last but not least, here are two pictures of Fenix BT20 in action, taken using my cellphone on my night ride from office to home. Sorry for image quality, my cellphone's camera can't really show you how bright it is.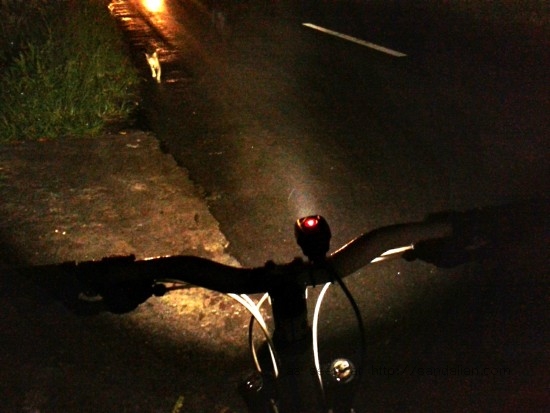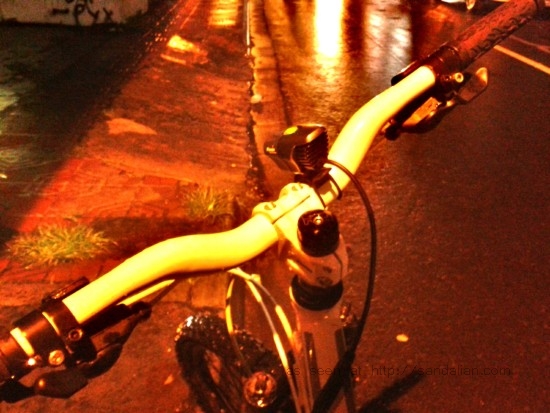 Bottomline:  
If you're looking for a dedicated bike light, this light is for you. But if you're a flashlight fan, I think you'd rather choose to attach your favorite EDC flashlight on your bike.