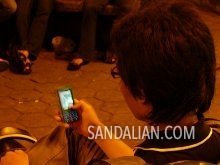 Wherever I bring my cellphone, I feel like I bring my laptop everywhere. Thanks to Opera that invented Opera Link, a technology that connect my laptop to my cellphone. I can easily add bookmark, notes and speed dial on my laptop (using Opera browser) and then I can access them using my cellphone, and vice versa.
Here is an example of how Opera Link ease my life. When I was in a bus, I read some exciting news but I was out of concern because the bus was crowded. So what I did was bookmarking the URL into my cellphone using Opera Mini. Later, I would be able to open the mentioned URL directly using my laptop. I don't even need to 'transfer' the data between cellphone and laptop, it's done automatically. :up:
It can also synchronizes notes, Speed Dials, and bookmark between your laptop and PC or to any other device with Opera installed in it.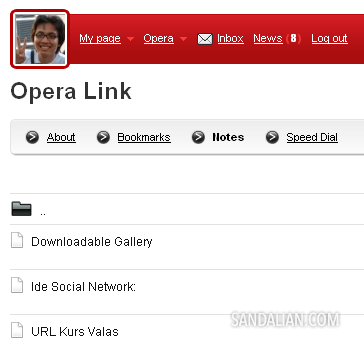 One day, my friend asked me about the progress of my job (I always write my job's progress in Opera notes). I didn't bring my laptop and my cellphone was running out its battery so I couldn't use Opera Mini to read them.
It's also impossible to back home to pick my laptop. So I borrowed his laptop, logged into my Opera Link account using any available browser in his laptop.
Voila, my bookmarks, notes and Speed Dials appeared directly on the web so I could access them using my friend's laptop without any additional software or setting. It's amazing man!
All we have to do to use these great service is an account on My Opera. Although it's free but we'll get a blog, photo gallery, 1 GB file storage and access to any Opera services available in the world. :yes: