After I got my first android phone, I was looking for any ringtone maker which is easy to use. Many ringtone makers provide some basic music instruments and require me to arrange them into a nice melody in ears. The problem is: I'm not a composer nor musician.
After looking around  on Android Market, I found a little app that fit my need from Mobile 17. With this software I just need to select a music file from my phone and "crop" it. Some seconds later it become my ringtone. Very easy to use, even for novice like me.
Here's step by step to create ringtone using this app.  I've captured the to show you how easy the process is:
After I select a song, this app will try to find some kind of 'preset' –or they say "popular edit"– that match with selected song. Later, I can crop the song easily by choosing start point and also end point.
To listen the result, I can click play button. I can also adjust the ringtone length in an easy way.
After everything is as I wanted, I just clicked on "Create Ringtone" button.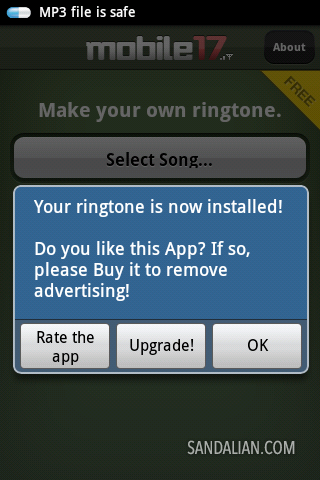 And voila! I have a new, personalized, and free ringtones from mobile 17 just in seconds!
Well, it may took some minutes if you're creating your ringtone while cooking 😀