If your job is involving social networking sites like Facebook and Twitter, surely you're familiar with websites that provide statistic and tool to analyze your influence and campaign result on social networking sites.
A few days ago I found a website used for social media analytics named Sprout Social. It's not a free service but we can use their full features for 30 days for free. Didn't want to waste any time, I gave it a try.
Registration just took a few minutes and I can add my social media profiles easily. After adding my social media profiles (some Facebook pages and Twitter accounts), it took a couple of hours for data gathering.
And here's the result after a couple of days. I found that I'm not a good social media 'activist'. LOL.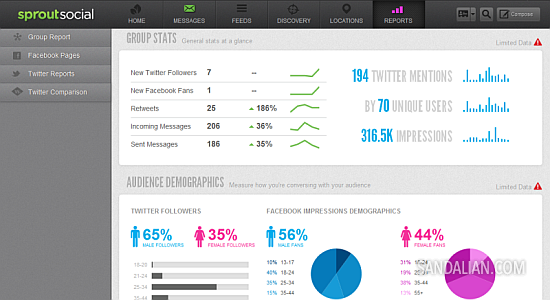 There are some 'basic features' such as Discovery (who to follow, who had mentioned you, whom you spoke to, etc), Feed (your timeline), and the most important is the Report page.
In the Report page, we can see report for all social media accounts. We can also view reports for specific account only. The report also available for specific date range and can be exported as PDF or CSV.
I'm not a social media expert, but I can say thay Sprout Social has a nice interface and easy to use. They also have mobile application for Android and iPhone if you're bothered to open your laptop just to see the report.
If you're interested, you can read this Sprout Social review or just visit their website and register yourself and try it for 30 days before you decide to spend some bucks.