A few days ago I received a free giveaway from My Digital Life, a small GPS device: i GotU GPS Logger.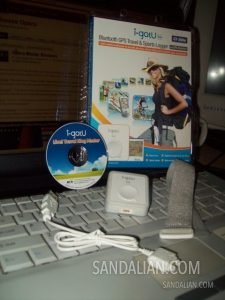 I soon opened the package and found the contents are:
– GPS device
– white strap/belt
– data/power cable
– CD driver and applications
The color is all white, remind me of any Apple's products and the GPS device is pretty small.  It made sense because the device is used for logging and receiver only, and there's only one button for various operation: power on/off, tracking, pairing with bluetooth and else.
The strap helped me to attach GPS logger on my arm, bag, or any place where I want to attach. I also found a USB cable that I can use to charge the battery and transfer log file from GPS into my laptop/PC.
While the CD contains driver and application named @Trip PC. With this app I can automatically geotag photos, track my journey and view it on the maps etc.
When I tried to track myself, the result is pretty good. I can measure how far I go, my speed and altitude. Despite the manual said to put the device directly toward the sky (to gain better satellite signal), it still worked great although I hide the receiver under my jacket.
Now I can't wait to go out  for some outdoor activities. A hiking, maybe.