Yesterday I read a kind of ridiculous news from my beloved country, Indonesia.
A Harvard's student named Bryan went to Banda Aceh for a research and learning Aceh culture. But he got a big surprise at his first night on the city that was swept by tsunami at 2005.
In the middle of night, a group of shariah police, cops, officials, and  reporters were banging the door and broke into his room. They later investigate the room, perhaps looking for any girl(s) that might be there.
The hotel manager said that "the raid" was performed to welcome the holly Ramadhan month, a month where mosleem fasting from dawn until evening.
Here's the news: They shouldn't harass foreign tourist.
It's funny because they do this  inconvenience thing while Banda Aceh goverment is proclaiming  "Visit Banda Aceh Year 2011" movement.
Wait, I think I see a female officer there..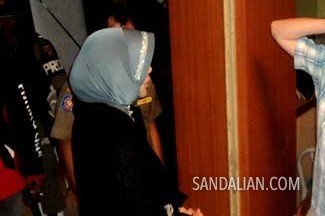 Was her husband with her at that middle of the night?
Okay, just forget my last question.
This post has one comment
oraumu[k] 12/09/2011 at 00:46

Memang agak menggelikan acara model gini, setiap mau ramadhan ada kegiatan kaya gini, kalau mau beneran, kenapa gak ditegakan tiap hari, jadi semua akan menjadi aturan baku, dan menjadi adil.
Leave a comment
---