I've been using Camera 360 for months and it's been my favorite free camera application for Android.  It gives more controls than default  camera application installed on my Samsung Galaxy Ace.
After some months and performing several upgrades, application size became remarkably huge. If I were having other smartphone with bigger internal memory size, it would be no problem at all.
But internal memory in my Galaxy Ace is only 158MB and Camera 360 itself uses 12+ MB, with no option to move this application to SD card.
Then Google helps me finding this article and I decided to try Camera Zoom FX. It isn't a free application but very cheap, less than 3 dollars.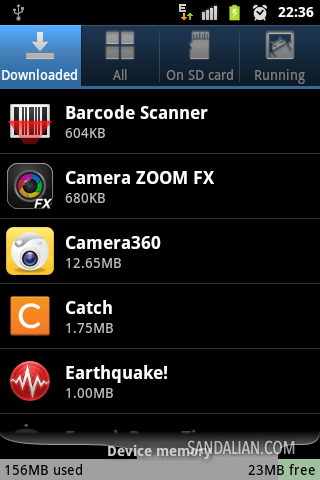 See my available free internal space on picture above, it kills me haha.
I quickly learn that Camera Zoom FX has almost identical feature as Camera 360. It's not my position to judge who's copying who, but I've got the winner.
After uninstall Camera 360, I've got some space to install another application to support my activity.