Some website require us to provide an email address in order to use their service(s), even if we only use their service once in a lifetime. Say you want to download a hardware driver for your computer from a website but they ask you to fill up your email address so they can send you the download link. Giving your email address away? You don't have to.

You can use any free disposable email address service such as onewaymail.com, it's very easy to use. When the website asks your email, simply fill any (yes, any) email address that came into your mind. Let's say driver@onewaymail.com.
The next thing you do is visit onewaymail.com and type driver in the field box located at the top page then press Go button. Now you should see an email from the website where you can download the driver.
Piece of cake, isn't it?
---
OneWayMail.com is a free disposable email service. Differ with others, their service is only for receiving mails. Thus we can not send any email from OneWayMail.com.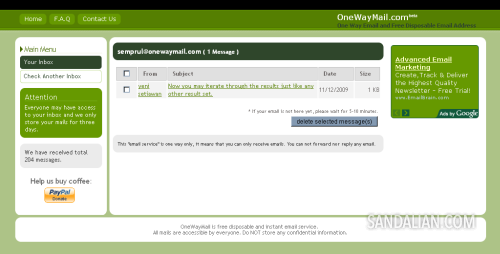 So what is the benefit of this weird email service?
Imagine one day you need a driver for your printer and found it somewhere on a website. But the website ask you to write down your email address before you can get the download link. With OneWayMail.com, you can write any email address, like: solomon@onewaymail.com, and you press submit.
Then you can open OneWayMail.com, enter "solomon" on the Check Inbox form, and press Go. You will then see an email with a download link from a website you just found.
Interesting, isn't it?
---