I am a knives lover. Since I was a young boy, I played with knife. Nabbing banana trees, cut down the bushes and other dangerous things (lol)
Nowadays, I always bring knives everywhere. Here are some of them:

Today I bring Victorinox Stay Glow (the green one) and the black flashlight with me. Stored safely in my bag :up:
---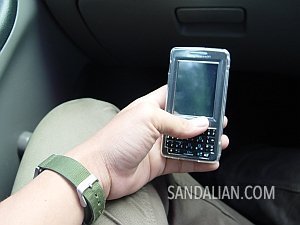 It's a new Sony Ericsson M600i. The phone I dream of, one year ago and finally I can have it a few days ago. It came with Opera 8.6 for Symbian UIQ but not too handy for me. After I installed Opera Mini, it became the best mobile device I ever had! :yes:
Now I can't go without mGooi, the name I gave to this phone. :wizard:
One thing I don't realy like is the 64mb memory stick. It's too small and upgrading to the bigger one is rather exepensive. So I only put some jazz songs there, to kill a time when I'm alone.
Does anyone have any site references where I can get themes, applications and else for my new m600i?
Have a great Monday, everyone! :cheers:
---